On the 12th of December 2022, we were invited to the 2nd High-level event hosted by the Digital for Development (D4D) Hub for Latin America and the Caribbean (LAC). It has been exactly one year since the D4D Hub has launched its EU-LAC digital platform. The aim of the event was therefore to share the lessons learned from the first year of the platform's launch as well as to discuss the expectations, priorities and possible deliverables for the future joint digital agenda within the EU-LAC partnership. The event was joined by various high-level speakers including representatives of LAC embassies, EU Member States, private companies, research institutions and civil society organisations. 100+ attendees joined in person, with another 200+ tuning in online from 40 different countries.
Fostering an EU-LAC approach to human-centred and inclusive digitalisation
The first roundtable (joined by IRCAI director John-Shawe Taylor) focused on how the EU and the Latin America & Caribbean region can further strengthen their cooperation and dialogue to consolidate a joint vision for a human-centred and inclusive digital transformation. The speakers addressed several obstacles in advancing an inclusive digital transition, including an insufficient investment in ICT infrastructure and inclusion programs in the LAC region, lack of an adequate legal framework and strategic vision for the regional innovation ecosystems as well as the lack of an educational agenda which could better capacitate human resources in the light of a growing digital and knowledge economy.
Speakers have therefore pointed at several avenues that should be expanded. One is to scale up existing initiatives such as the Copernicus centres and to strengthen cooperation between data and development experts in EU and LAC. Another part of the answer is that we should work on developing and implementing more context-based benchmarking exercises which truly capture the realities of Latin American and Caribbean countries.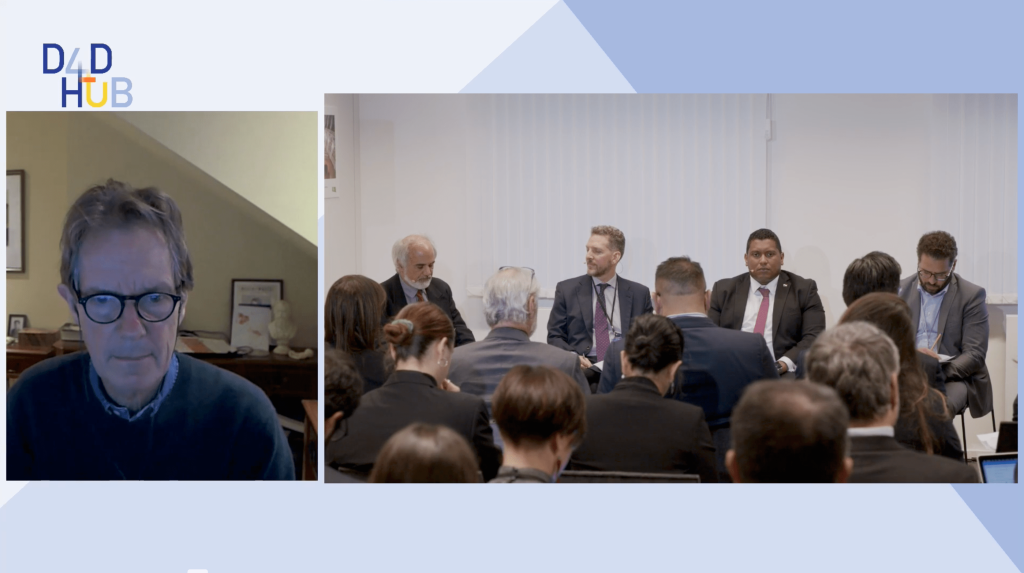 Photo: Screenshot from the roundtable session "Shaping an EU-LAC approach to human-centred and inclusive digitalisation: the role of emerging technologies" (Source: Worksup)
Building together a Global Gateway digital investment agenda for LAC
The second parallel roundtable session centred more specifically on the Global Gateway digital investment agenda for LAC, which had been announced a couple of weeks prior to the event by European Commission President Ursula von der Leyen. In this discussion, speakers sought to identify concrete instruments and incentives that are vital to boost investments in and partnerships with the LAC digital economy. Speakers mentioned various pathways including boosting connectivity (e.g. access to 5G), developing dialogue fora to discuss cooperation opportunities with other multilateral/financial organisations (e.g. IADB), developing an applicable regulatory framework, and providing sufficient training for the integration of more SMEs into the regional digital ecosystem.
Missed the event? Recordings of all speeches and roundtables are available here.
And last but not least: The D4D Hub has announced that it will be launching a call for expression of interest to join the D4D Hub Advisory Group on CSOs and Academia by the end of this month. More information will follow soon.